Manual One Edge Top and Bottom Drive Sealer (MT1EB)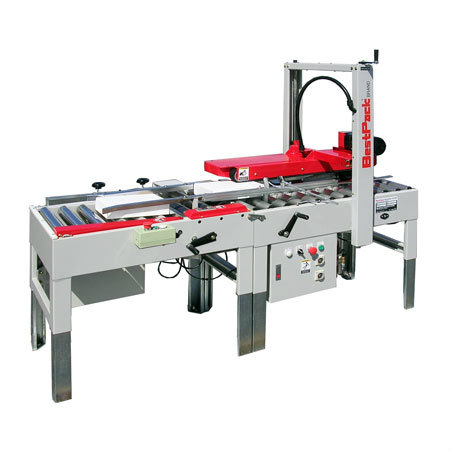 MT1EB
Overview
The BestPack MT1EB Series is a one edge high-speed carton sealer that is unique in its kind. Capable of sealing any carton needing only one edge seal on bottom of carton, this is the only high-speed one edge sealer available in the world and it's only available at BestPack.

*indexer is optional
All units are available in standard finish or stainless steel.
Also available with 2" or 3" tape head.
Features
1 Top Belt and 1 Bottom Driven Belt
Bottom One Edge Seal or Top Edge Seal
Adjustable Bed Height from 24.5" to 30.75"
Tape Roll Lengths: 1000 yd., 1500 yd., 2000 yd.
Heavy Duty Frame
UL Approved Electrical Parts
Designed for Uniform Applications
Rugged Construction
Cost Effective
Standard Equipment
Exclusive Pop-out pressure sensitive "high speed" tape head with noise reduction arm
Maintenance Free, Oil-less Air Cylinders
Operation Manual
Optional Equipment
Indexer
Infeed/Exit Conveyor
Locking heavy-duty caster (4 casters)
High Speed Motor Upgrade (Up to 125 ft./min.)
Motorized Height and/or Width Adjustment
Interlock Safety Gates
Low or No Taper Sensor
Stainless steel
Spare Parts Kit
Machine & Carton Specifications
Power Requirements:

110 Volts, 60 Hz, 1.9 A, 122 watts/motor

Air Requirements:

60-70 PSI, 3-4 CFM, Dry Air

Speed:

Up to 45 cartons/minute

Tape Head:

Standard: 2", Available: 3"

Carton Min/Max Range²:

L: 8" - Unlimited *9.5" min. if fed by indexer
W: 5.25" - 12.0"
H: 1.5" - 5"
This page last updated: 11/15/2007
The information herein is subject to change without notice.
¹ Machine weight and dimensions may vary depending on carton sizes. Please view brochure for complete machine specifications.
² Carton ranges are fully customizable. Please inquire with our sales team with your specific requirements.