Elite AR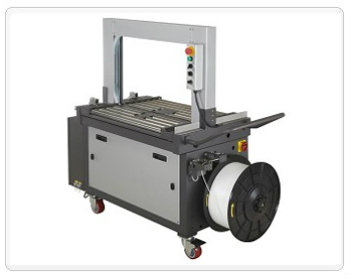 Joinpack Servo Motor, Roller Table, Automatic Strapping Machine, ELITE-AR
Product Name :
High Speed Fully-automatic Roller-driven Strapping Machine
Description
High speed strapping for your strapping demands, this bottom seal strapping equipment can widely increase your productivity with its advanced tensioning system, and makes your strapping job easier with extraordinary competitive advantages. Corresponding to wide range of product sizes, effectively making the strapping securing process maximizes your production speed. Used for polypropylene straps in broad range of straps width from 5,6,9,12, to 15 mm, this automatic strapping series is perfect match for general industry uses, and particularly suitable to be applied for corrugated or printing industry for those high friction package such as Styrofoam box or high tension bundles. Square machine series: CS1 (click to see more information) with its back-push optional feature is the best and complete combination for your corrugated end-line production's alignment.
This high quality automatic strapping machine contains bottom heat sealed elements for maximum seal efficiency. With several valuable optional functions including auto load in feed and retracting system, loop ejector and short feeding detection device, the extra options features add up its strapping performance and its user-friendly characteristics. Hinged table top easy to access for maintenance or adjustment. Light or heavy duty top press device is optional feature for strapping corrugated bundles.
The most reliable and robust strapping equipment; magnificent and standout packaging machine for your daily operation.
Features
Power roller driven table top.
DC Brushless motor direct driving system
Strapping cycle time 46 straps per minute
Waist high self-loading device, strap easily loaded
Auto retract & re-feeding upon failure feeding
Loop ejector
End of strap ejecting system
Electronic tension control
Easily relocated operator panel
Hinge table top
Simple kits to change strap width
Reliable & robust work efficiency
Specification
46straps/min.
5~75 kgs
5,6,9,12,15mm sprcified
Heating element
W200 x L180mm
200,230,280mm specified
110/220/230/240V, 50/60Hz, 1PH
| | | |
| --- | --- | --- |
| | | 7~45m/min adjustable |
| | | |
| --- | --- | --- |
| | | 800~1020mm |
| | | |
| --- | --- | --- |
| | | 70kgs |
| | | |
| --- | --- | --- |
| | | 0.75kva |
| | | |
| --- | --- | --- |
| | | standard : W730 x H504.5 |
| | | |
| --- | --- | --- |
| | | L1495 x W654.4 x H1403mm |
| | | |
| --- | --- | --- |
| | | Net. 350kgs |
Options
Stainless steel housing
HMI tough screen panel
Various arch sizes available
Soft compactor
Hard compactor