MAX-AR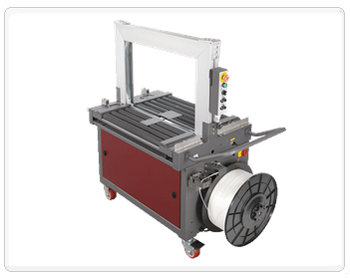 Product Name :
High Speed Fully-automatic Roller-driven Strapping Machine
Description
High speed strapping for your packaging demands, bottom seal strapping equipment - Max series - can widely increase your productivity with its advanced tensioning system, and makes your strapping job easier with extraordinary competitive advantages.
Corresponding to wide range of product sizes, effectively making the strapping securing process maximizes your production speed. Used for polypropylene straps in broad range of straps width from 5,6,9, to 12mm, MAX-AR is perfect match for general industry uses. Driven by servo motors expands to 52 straps/min for cycle time. Unique exchangeable modular table top enables more flexibility to carry on different types of operations. Power roller table top machine can be easily integrated into your existed production line. Equipped with aluminum arch and one-piece arch greatly increase the stability.
This high quality automatic strapping machine contains bottom heat sealed elements for maximum seal efficiency. Including several valuable features such as auto load in feed and retracting system, loop ejector and short feeding detection device. Extra options add up its strapping performance and its user-friendly characteristics. Stainless housing is perfect for meat or marine food products. Light or heavy duty top press compactor could be also applied upon your demand.
The most durable and robust strapping equipment; top-class and deluxe packaging machine for your daily operation.
Features
Strapping cycle time 52 straps per minute.
Power roller driven, hinged table top.
Modular table top.
Waist high auto loading system.
Looping ejector.
Coil end strap ejecting system.
Self sealing alignment device.
Control pendant: easy to relocate for operation.
Table height adjustable.
Easy to change strap width with simple kits.
Advanced tensioning system.
Specification
over 50 straps/min.
5~75 kgs
5,6,9,12,15mm sprcified
Ø200, Ø230, Ø280 mm
115V/230V/240V, 50/60Hz, 1PH
6-35 m/min.
1.5 KW(standard)
| | | |
| --- | --- | --- |
| | | 800~1020mm (adjustable) |
| | | |
| --- | --- | --- |
| | | 1286(L) x 575(W) 1450(H)mm |
| | | |
| --- | --- | --- |
| | | 730(W) x 504.5(H) mm(standard) |
Options
Stainless steel housing.
Soft compactor.
Hard compactor.
Belt driven table top(MAX-AB)