ELVS22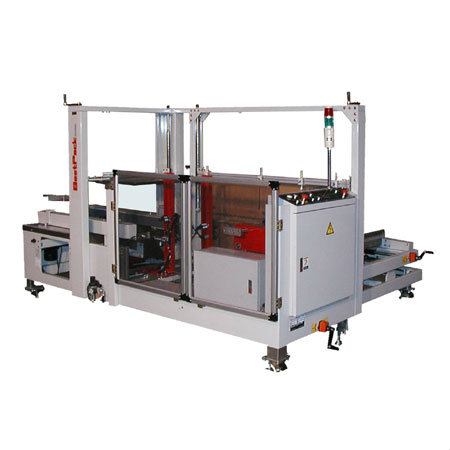 Overview
The Model ELVS is an innovative, high-performance carton erector/sealer. This erector is built for heavy usage with quick and simple carton size changeover. The adjustments for the hopper width, carton length, carton width, carton height are done with easy adjusting screw drives. The first three screw drive adjustments include counters for easy reference. There are no tools required for carton size changeover. If you are looking for a simple yet heavy built carton erector, this is a must see machine.
Features
Quick and easy changeover
Size adjustment counter for the hopper width, carton length, and carton width
Heavy-duty construction
Maintenance Free, Oil-less Air Cylinders
Manual jog button for step-by-step activation of all movements
Malfunction alarm with two-colored light
No tape on carton alarm
Low hopper alarm
Suction cup system
L-Type/Vertical fed (carton is in standing position in the hopper)
Hopper capacity up to 100 cartons
Hopper is Power Driven
Output: Up to 8 cartons per minute
PLC Logic controlled
Standard 2" tape head, 3" available
Heavy-duty peg legs
Machine & Carton Specifications
Power Requirements:

110 Volts

Speed:

100 PSI, 10+ CFM

Speed:

Up to 8 cartons/minute

Tape Head:

Standard: 2", Available: 3"

Shipping Weight:

1,400 lbs

Machine Dimensions ¹:

L: 106.1"
W: 86.22"
H: 68"

Carton Min/Max Range²:

L: 8.7" - 20"
W: 6.9" - 18"
H: 6.0" - 20"
This page last updated: 10/25/2007
The information herein is subject to change without notice.
¹ Machine weight and dimensions may vary depending on carton sizes. Please view brochure for complete machine specifications.
² Carton ranges are fully customizable. Please inquire with our sales team with your specific requirements.