Automatic Top and Bottom Drive Fruit Box Machine (ATFUX)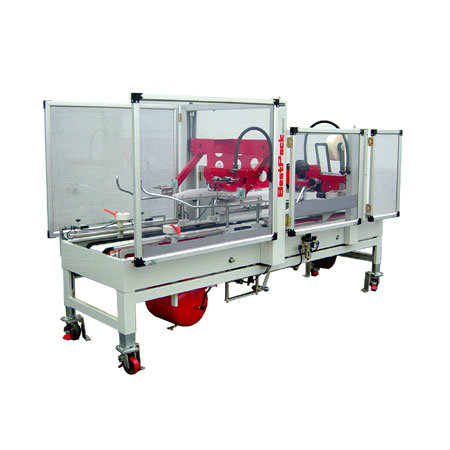 ATFUX
Overview
The BestPack ATFUX Series carton sealer is an operator free carton sealing machine, using pressure sensitive tape, designed to cater to heavy duty needs of packing houses using HSC cartons. Great for use in packaging oranges, potatoes, or apples.

Sealer includes four stations:
An indexer station
A positive outer sleeve lifter station with shaker, to assure proper squaring of the top flaps before entering the flap folding station
A flap fold station closes the top flaps
A final station seals the top and bottom flaps leaving the top and bottom flaps sealed but not tabbed together
Features
Self Centering Guide Rails
Adjustable Compression Rollers
Width/Height Adjustment on either side of machine
Drive Belts are Equipped w/ a "V" Guide
Tape Roll Lengths: 1000 yd., 1500 yd., 2000 yd.
Heavy Duty Frame
UL Approved Electrical Parts
Capable of Interchanging 2" or 3" Tape Heads
Standard Equipment
Exclusive Pop-out pressure sensitive "high speed" tape heads w/ patented tab adjustment and noise reduction arm
Maintenance Free, Oil-less Air Cylinders
Easy to thread tape heads
Operation Manual
Optional Equipment
Stainless Steel
Spare Parts Kit
Infeed/Exit Conveyor
Machine & Carton Specifications
Power Requirements:

220 Volts, 3 Phase, 20 Amps, 10:1 Ratio, 1/5 hp

Air Requirements:

90 PSI, 8 CFM

Speed:

Up to 38 cartons/minute

Tape Head:

Standard: 3", Available: 2"

Shipping Weight:

1,098 lbs

Machine Dimensions ¹:

L: 107.25"
W: 32.25"
H: 60.0"

Carton Min/Max Range²:

L: 16.73" - 23.27"
W: 11.22" - 15.31"
H: 5.24" - 10.5"
This page last updated: 09/16/2008
The information herein is subject to change without notice.
¹ Machine weight and dimensions may vary depending on carton sizes. Please view brochure for complete machine specifications.
² Carton ranges are fully customizable. Please inquire with our sales team with your specific requirements.