Fully Automatic Sidedrive One Edge (AS1E) with Indexer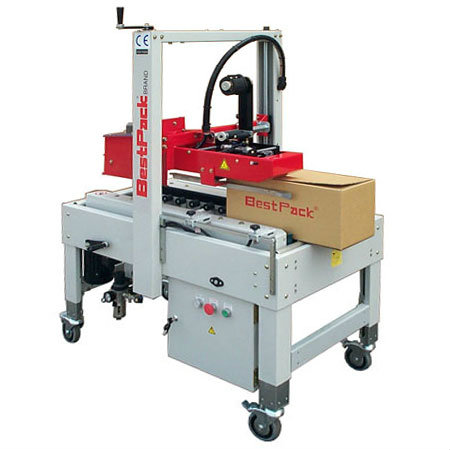 Overview
The BestPack? AS1E Series is a one edge high-speed carton sealer with indexer that is unique in its kind. Capable of sealing any carton needing only one seal, this is the only high-speed one edge sealer available in the world and it's only available at BestPack?.
Included in this operator-free version is the BestPack? ARX Indexer. The Indexer provides a continuous flo and operator-free accessibility.
All units are available in standard finish or stainless steel.
Also available with 2" or 3" tape head.
Features
2 Side Driven Belts
Adjustable Bed Height from 24.5" to 30.00"
Width/Height Adjustment either side of machine
Tape Roll Lengths: 1000 yd., 1500 yd., 2000 yd.
Heavy Duty Frame
UL Approved Electrical Parts
Designed for Uniform Applications
Rugged Construction
Guide Rail Centering Mechanism
Available in either 2" or 3" Tape Head
Cost Effective
Standard Equipment
Exclusive Pop-out pressure sensitive "high speed" tape head with patented tab adjustment and noise reduction arm
Indexer
Operation Manual
Optional Equipment
Locking heavy-duty caster (4 casters)
High Speed Motor Upgrade (Up to 125 ft./min.)
In/Out Conveyor
Motorized Height and/or Width Adjustment
Interlock Safety Gates
Low or No Taper Sensor
Stainless steel
Spare Parts Kit
Infeed/Exit Conveyor
Machine & Carton Specifications
Power Requirements:

115 volts, 60 Hz, 1.9 A, 122 watts/motor

Speed:

Up to 40 cartons/minute

Tape Head:

Standard: 3", Available: 2"

Machine Dimensions ¹:

L: 75.5"
W: 26"
H: 62.25-68.75"

Carton Min/Max Range²:

L: 7.0" - Unlimited
W: 1.72" - 5.5"
H: 4.0" - 21.75"
This page last updated: 03/26/2007
The information herein is subject to change without notice.
¹ Machine weight and dimensions may vary depending on carton sizes. Please view brochure for complete machine specifications.
² Carton ranges are fully customizable. Please inquire with our sales team with your specific requirements.