Sidedrive (MSDBF22)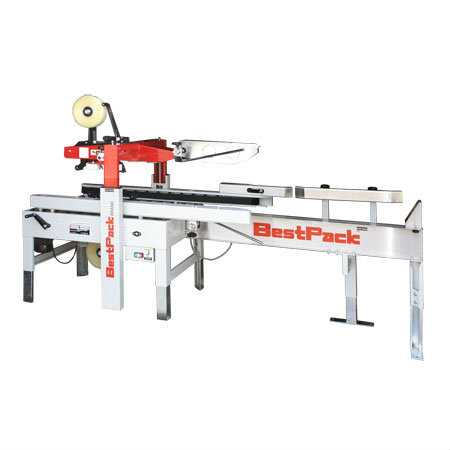 MSDBF22
Overview
The BestPack MSDBF sealer is a unique combination of a packing, flap folding, and carton sealing station. This machine, which features an extended sidedrive system and attached 3 flap folder, enables a person to erect, package, flap fold, and seal a carton all in one station.

This machine comes with a pop-out tape head. The two side belts are driven by two electric 110V UL-approved motors. The units are designed with a four leg support structure.
All units are available in standard finish or stainless steel
Available in 3" tapehead
Features
Extended Two Side Belt Drive System
Bottom 4 Flap Folder & Top 3 Flap Folder
Attached T-Rail Packing Station (additional t-rail adaptors may be needed depending on box sizes)
Telescopic Mast Design
Adjustable Bed Height 31.0" to 35.0"
Width/Height Adjustment either side of machine
Heavy Duty Frame
UL Approved Electrical Parts
Designed for uniform applications
Standard Equipment
Pop out tape heads
Carton Compression Unit (top)
Folds 3 Top Flaps & 4 Bottom Flaps
T-Rail Packing Station (additional t-rail adaptors may be needed for some box sizes)
110V, 60 Hz, Single Phase
Operation Manual
Optional Equipment
T-Rail adaptors for certain box sizes
Locking Castors
Interlock Safety Gates
Stainless Steel
Spare Parts Kit
Machine & Carton Specifications
| | |
| --- | --- |
| Power Requirements: | 110V, 60 Hz, Single Phase |
| Speed: | Up to 10-20 cartons/minute |
| Tape Head: | Standard: 2", Available: 3" |
| Shipping Weight: | 420 - 648 lbs |
This page last updated: 11/09/2005
The information herein is subject to change without notice.
? Machine weight and dimensions may vary depending on carton sizes. Please view brochure for complete machine specifications.
? Carton ranges are fully customizable. Please inquire with our sales team with your specific requirements.