Manual Packing Station (MBF)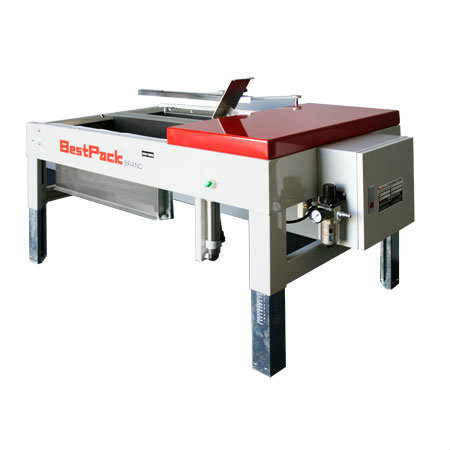 Manual Packing Station (MBF)
Overview
The BestPack MBF bottom flap folder/packing station closes the bottom flaps and holds the carton in position while the operator fills the carton. The operator then pushes the carton to the next station. A great addition when placed in front of one of our flagship carton sealers.
Features
Stand-alone units
Adjustble Bed Height from 24.5" to 30.0"
Will operate with any of our BestPack? adjustable or random systems
Air operated at 4-6 cfm at 80 lb. of pressure
No electricity needed
Cost Effective
Included one-year warranty against defects on all parts
Machine & Carton Specifications
Power Requirements:

Up to 6 cartons/minute

Shipping Weight:

232 lbs

Machine Dimensions ¹:

L: 55.0"
W: 29.0"
H: 36.0"

Carton Min/Max Range²:

L: 5.0" - 24.0"
W: 7.5" - 21.0"
H: Unlimited
This page last updated: 08/13/2007
The information herein is subject to change without notice.
¹ Machine weight and dimensions may vary depending on carton sizes. Please view brochure for complete machine specifications.
² Carton ranges are fully customizable. Please inquire with our sales team with your specific requirements.